TXDL18-63 Residual Current Circuit Breaker
Residual Current Circuit Breaker | RCCB-RCBO
Parameters

Details

Size&weight

Related

Video

Message
Scope of Application
TXDL18-63
Residual Current Circuit Breakers
(MOELLER LD7
RCBO Circuit Breakers
) are widely used in domestic and foreign industrial, commercial and civil construction and other fields, which apply to red - green contact position indicator to instruct clearly to the real contact state of contacts, so that the
RCD Circuit Breaker
has a reliable function of the isolation instructions to ensure the operator's personal safety. Structure design of double terminal on two sides, which can be connected to all types of wires and busbars at the same time, which make the wiring more flexible, more secure, more reliable. Different colors of handle are used to indicate different current levels, increasing the current logo except lettering to make the logo more durable, while increasing the color artistry of the product. Terminal wiring guide structure ensure the correct wiring location to avoid the great risk of electrical fires caused by wiring errors, while improving the wiring efficiency. DIN rail clamp in the 3 position is easy to be dismantled and replaced from the bus system and the rail, to avoid making all other
RCD Circuit Breakers
break caused by replacing a faulted switch. Accessories of variety adopt fast adjacent card installation to make installation be very convenient, fast, greatly saving the labor time. High breaking capacity and excellent current limiting characteristics improve the safety of electrical systems, reducing the impact of failure on the system. Unique arc-extinguishing system design, to ensure that your electrical fault can be broken quickly, and residual heat discharge rapidly after breaking, improving the life of the switch. Association continuity of the design concept about new and old generation
RCD Circuit Breakers
ensure that the new one chosen have a high degree of compatibility with the previous one. When upgrade, you don't need to change the previous design.
TXDL18-63 Residual Current Circuit Breakers (MOELLER LD7
RCBO Circuit Breaker
) meets standards of IEC60898, GB10963.1 "Household and similar places over-current protection circuit breakers" and other standards.
Model and meaning of TXDL18-63 RCBO Circuit Breaker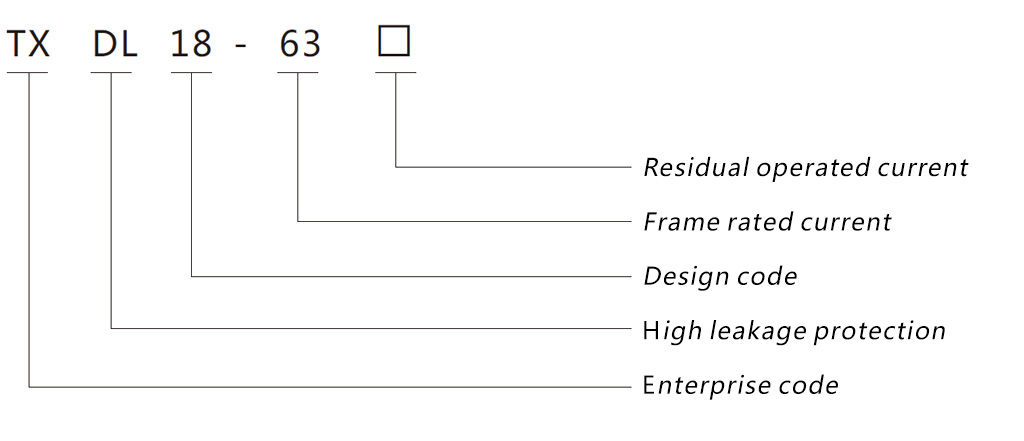 Product Features
● High breaking capacity of 10KA.
● Compact structure, small size (2 modules wide).
● With the center line breaking function, more safe and reliable.
● Dual-function terminals, high wiring capacity.
● With a contact status indicator, easy to identify the contact conditions of contacts.
● Different handle colors are used to indicate the rated current.
● Wide rated current range, can be used as a home switch.
● Uniform accessories series.
Main parameters and technical performance
| | |
| --- | --- |
| Tripping time | □Non-delay、□Minimum 10ms delay |
| Rated voltage A(Ue) | 230V;50Hz |
| Rated residual operating current | 30,100mA |
| Sensitivity | A-type |
| Selectivity level | 3 |
| Rated breaking capacity A(Icn) | 6-40A |
| Rated current (In) | 10ka |
| Tripping characteristics | C,D characteristic curve |
| The maximum fuse that can be connected | 100A gl(>8KA) |
| Environmental resistance in severe climate | According to the standard of IEC1009 |
| Case protection class | IP40(After installation) |
| Electrical life | not less than 4000 times(making-breaking) |
| Mechanical life | not less than 8000 times(making-breaking) |
Mechanical parameters
| | |
| --- | --- |
| Case width | 36mm(2 modules) |
| Installation | Mounted on the DIN rail of 35 mm |
| Terminal wiring capacity | Conductor: 1-25mm² Busbar thickness: 0.8-2mm² |
Outline and installation dimension

Keywords: RCD Circuit Breaker,RCBO Circuit Breaker
view and download
| | | | | |
| --- | --- | --- | --- | --- |
| File name(Click to view) | File type | file size | View times | Click to download |
Product related news
| | | | | |
| --- | --- | --- | --- | --- |
| News title | Promulgator | Release time | View times | Click to read |