TNID Residual Current Circuit Breaker
Residual Current Circuit Breaker | RCCB
Parameters

Details

Size&weight

Related

Video

Message
Scope of Application
TNID-63 Residual Current Circuit Breaker (30mA RCBO without over-current protection) is used for the circuit of AC 50Hz, rated voltage of 230V for 2 poles, 400V for 4 poles, rated current of 63A, when the personal electric shock or grid leakage current exceeds the specified value, the residual current action circuit breakers cut off the trouble power quickly to protect the personal and electrical equipment, it also can be applied to infrequent transfer and start of the circuit.
TNID-63 RCCB Circuit Breaker are applicable to industrial, commercial, high-rise and civil residence and other places.
Meet the standards: GB 16916.1, IEC 61008-1, obtain CCC, CE certification.
TNID-63 RCCB Circuit Breaker are designed, manufactured and tested according to GB16916.1 "Residual current operated circuit-breakers without overcurrent protection for household and similar use (RCCB) Part 1: General rules".
Models and Specifications

Normal operating conditions and installation conditions
The elevation of the installation site is not more than 2000m.
Ambient air temperature: -5℃~40℃, and average temperature in 24h below +35℃.
Atmospheric conditions: Atmospheric relative humidity at ambient air temperature is + 40℃ for not more than 50%, in the low temperature can have higher relative humidity. Consider the temperature changes in product on the surface of the gel and take special measures.
Pollution degree: 2
Installation conditions: Installed in the place without simpact vibration and invasion of rain and snow: the upper-terminal connects the power, the lower terminal connects load; the inclination of the vertical plane is not more than 2 °. Mounted on the TH35-7.5 steel rail.
Installation categories: Ⅱ, Ⅲ level.
The external magnetic field in the vicinity of the circuit breaker installation site does not exceed 5 times of the geomagnetic field in any direction.
Main parameters and technical performance

| | |
| --- | --- |
| Rated voltage(V) | 230V~(1P+N),400V~(3P+N) |
| Rated curren(A) | 25、40、63 |
| Rated residual operating current(A) | 0.03,0.1,0.3 |
| Pole | 1P+N、3P+N |
| According to a DC component of the working conditions | AC-type |
| Rated limiting short-circuit current Inc(A) | 6000 |
| Rated limiting residual short-circuit current I△c(A) | 6000 |
| Rated making-breaking capacity Im(A) | 500(In=25,40A);630(In=63A) |
| Rated residual on and breaking capacity I△m(A) | 500(In=25,40A);630(In=63A) |
| Rated residual non-operating current 500(In=25,40A);630(In=63A) | 0.5I△n |
| Residual current action breaking time | See Table 2 |
| Mechanical and electrical life(time) | See Table 3 |
| Tightening torque(N.m) | 2.5~4.0 |
| Dimensions and installation dimensions | See Figure 2, Figure 3 |
| Pollution level | 2 |
| Degree of protection | Ip20 |
| Installation category | Ⅱ |
Breaking time of residual current action
In(A)
I△n(A)
The MAX breaking time (s) and the MIN non-driving time (s)
I△n
2I△n
5I△n
5A,10A,20A,50A,
100A,200A,500A
25、40、63
0.03、0.1、0.3
0.1
0.08
0.04
0.04
Specified cycle index withstood by residual current action circuit breaker
In(A)
Operating cycle index
Operation frequency
(time/h)
On-load
No-load
25
2000
2000
240
40、63
2000
1000
120
Structure and working principle
This series of circuit breakers are current action type RCCB Circuit Breaker, the main components are: the main switch, zero sequence current transformer, leakage release, the test device. All parts are mounted in a plastic housing.
When the protected circuit has leakage or personal electric shock, as long as the residual current (leakage current) reach the rated residual operating current value, output signal of the secondary winding of the zero-sequence current transformer drive the (30mA)RCBO to make RCCB Circuit Breaker operate, thus to cut off the power, play a protective role in leakage and electric shock.
Work principle of (30mA) RCBO shown in Figure 1.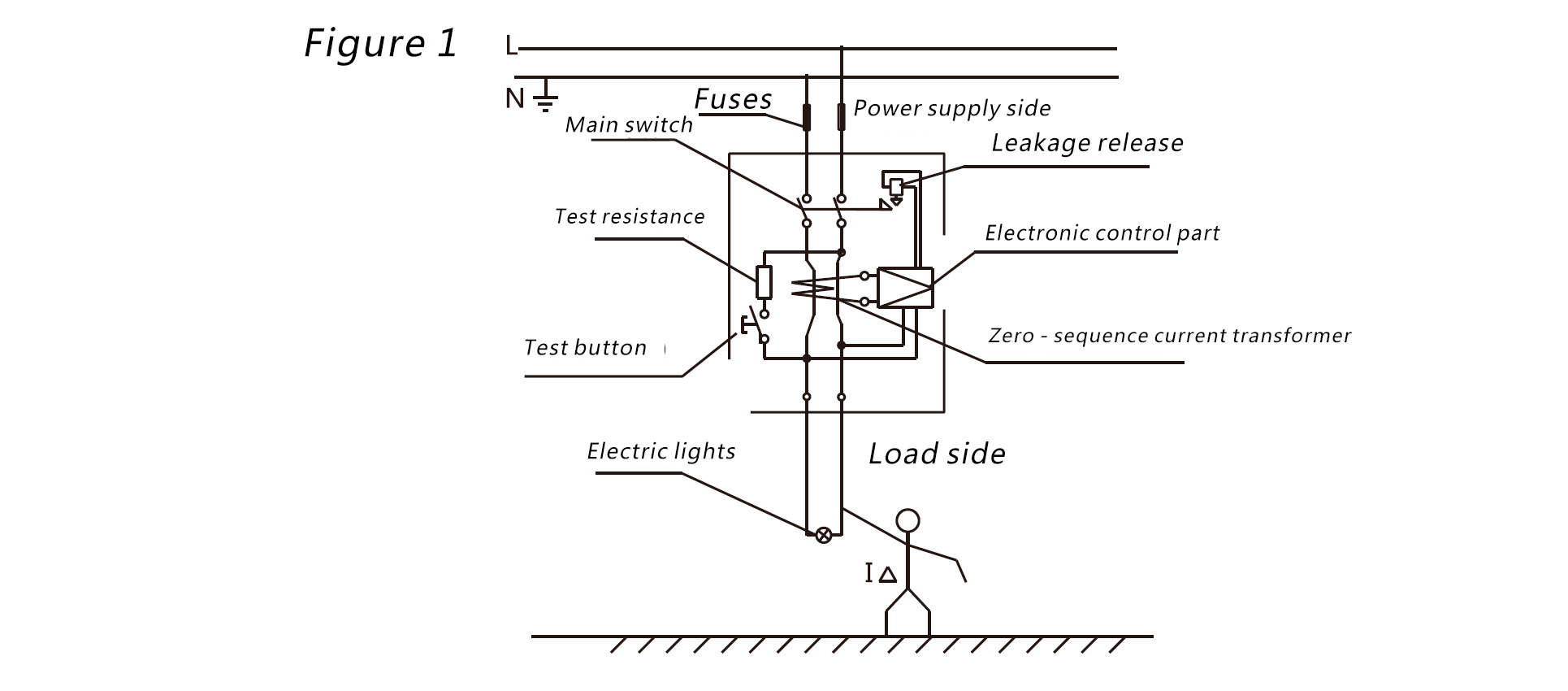 Others
Without auxiliary power, to overcome defects of poor anti-interference electronic products, big effect by the grid voltage fluctuations and non protection due to the broken neutral line, to broaden the scope of residual current protection.
Rated short circuit current up to 6kA.
Case and parts are made of plastic with high flame-retardant, high temperature, impact-resistant.
Modular size, easy to install.
Dynamic test device, to make the button more flexible and reliable.
Insulation withstand voltage performance:
A. Peak impulse voltage withstood of the poles are connected together and the neutral pole is 6000V;
B. Peak impulse voltage withstood of the poles and neutral pole connected together and metal holder is 8000V.
Wiring: terminal wiring area of 25A and below can be connected to multi-stranded wire of 6mm² or single-stranded hard wire.
Terminal wiring area of 40A to 63A can be connected to multi-stranded flexible wire of 16mm² or single-stranded hard wire.
Outline and installation dimensions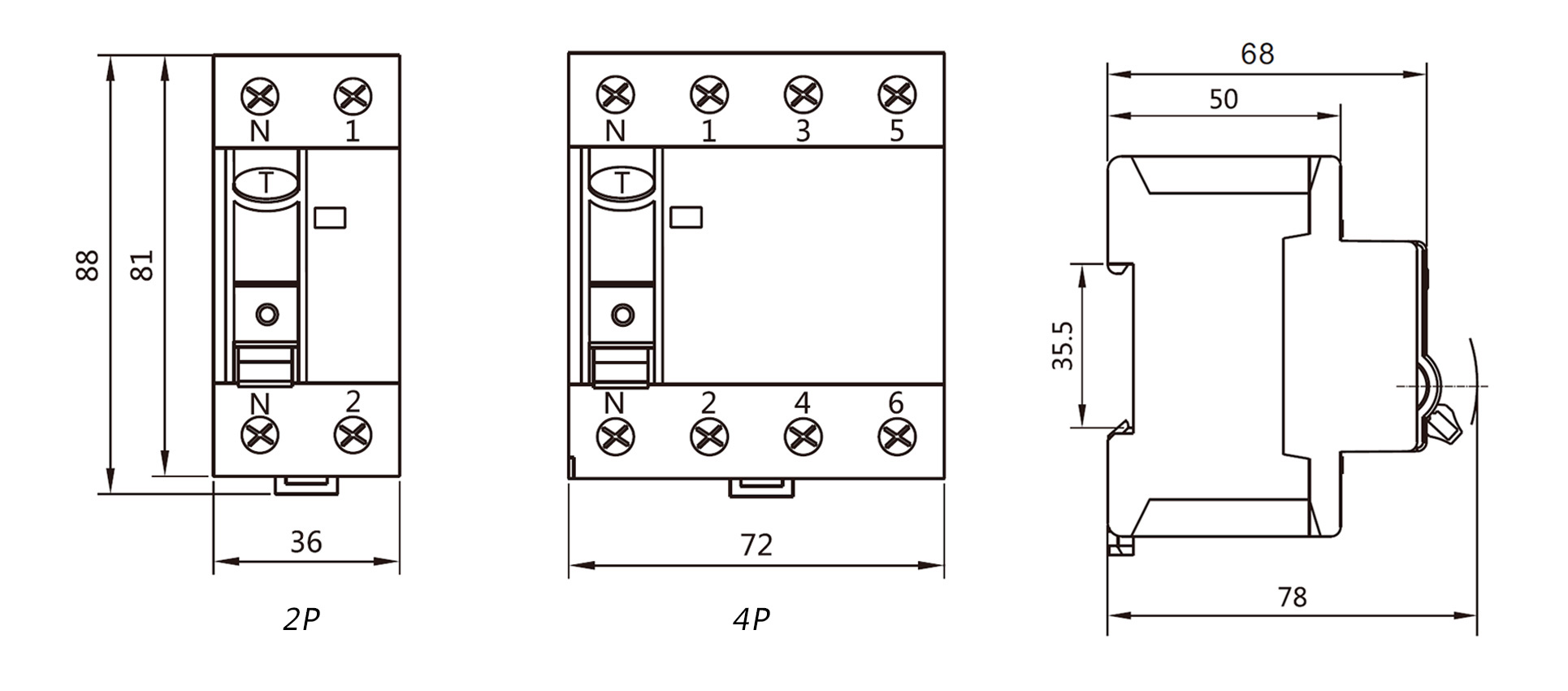 Keywords: RCCB Circuit Breaker,30mA RCBO
view and download
| | | | | |
| --- | --- | --- | --- | --- |
| File name(Click to view) | File type | file size | View times | Click to download |
Product related news
| | | | | |
| --- | --- | --- | --- | --- |
| News title | Promulgator | Release time | View times | Click to read |