Parameters

Details

Size&weight

Related

Video

Message
Scope of Application

CJT1 AC Contactor (Also known as motor contactor), mainly used for the power line of AC 50Hz or 60Hz, rated working voltage to 380V, current to150A, for long-distance making and breaking circuit, and combine with the appropriate thermal relay or electronic protective device into a motor starter to protect circuits that may overload.
CJT1 AC contactors (motor contactor)meet the standards: GB14048.4, IEC60947-4-1 and JB / T8730, is an alternative product of CJ10 AC electrical contactor.
Model and meaning


Some common models:
CJT1-10,CJT1-20,CJT1-40,CJT1-60,CJT1-80,CJT1-100,CJT1-150
Normal operating conditions and installation conditions

Ambient air temperature: -5℃~+40℃, the average does not exceed +35℃ within 24 hours.
Altitude: not more than 2000m.
Atmospheric conditions: the maximum temperature is +40℃, the relative humidity is not more than 50%; at lower temperatures can allow a higher relative humidity, for example, +20℃ up to 90%, special measures should be taken for condensation produced occasionally due to temperature changes.
Pollution level: 3.
Installation category: Ⅲ.
Installation conditions: The inclination of the installation surface and the vertical plane is not more than ±5°.
Shock Vibration: The product should be installed and used in the place without significant shaking, shock and vibration.

Main parameters and technical performance

According to the current level, moto contactor is divided into: 10A, 20A, 40A, 60A, 100A, 150A.
Coil rated control supply voltage Us is: AC (50Hz): 36V, 110V, 127V, 220V, 380V.
Operating conditions: pull-in voltage (85% ~ 110%) Us; release voltage (20% ~ 75%) Us.

The main parameters and technical performance (see table).
Model
Rated voltage
(V)
Rated current
(A)
Operating frequency
times/h
Making capacity
Breaking capacity
Electrical life
10000 times
Mechanical life
10000 times
Control electric power(KW)
Attracting coil
AC-3
AC-4
220V
380V
Rated voltage
(V)
Starting power
Holding power

CJT1-10

380

10
600

15Ue cosφ
=0.35±0.05
12le

15Ue cosφ=
0.35±0.05
10le
60
2
300
2.2
4
36,127,220,380
65
9

CJT1-20

380

20
600
60
2
5.5
10
36,127,220,380
140
9.5

CJT1-40

380

40
600
60
2
11
20
36,127,220,380
230
19

CJT1-60

380

60
600
60
1
17
30
36,127,220,380
485
95

CJT1-100

380

100
600
60
1
30
50
36,127,220,380
760
105

CJT1-150

380

150
600
60
0.6
43
75
36,127,220,380
950
110
Structural features

The motor contactor has the same structure and installation size as CJ10. The arc extinguish chamber is made of arc-resistant plastic arc cover and iron grille, and the base of CJT1-60, 100 and 150 are made of reinforced plastic.
CJT1-10~40A electrical contactor for the double-break direct-acting structure, 60-150A electrical contactor contact system for the double-break direct-acting, electromagnetic system for the lever rotation structure. Contact are using a new copper-based alloy material without silver. With strong resistance to oxidation, contact resistance is small and stable, and have good anti-welding and abrasion resistance, saving precious metals, reduce costs. 20-40A electrical contactor with U-shaped arc extinguishing caps and phenolic plastic arc extinguish chamber, 60-150A electrical contactor use a new staggered arrangement of vertical and transverse grid, DMC arc-resistant plastic arc extinguish chamber, performance of arc extinguishing is good.
Outline and installation dimensions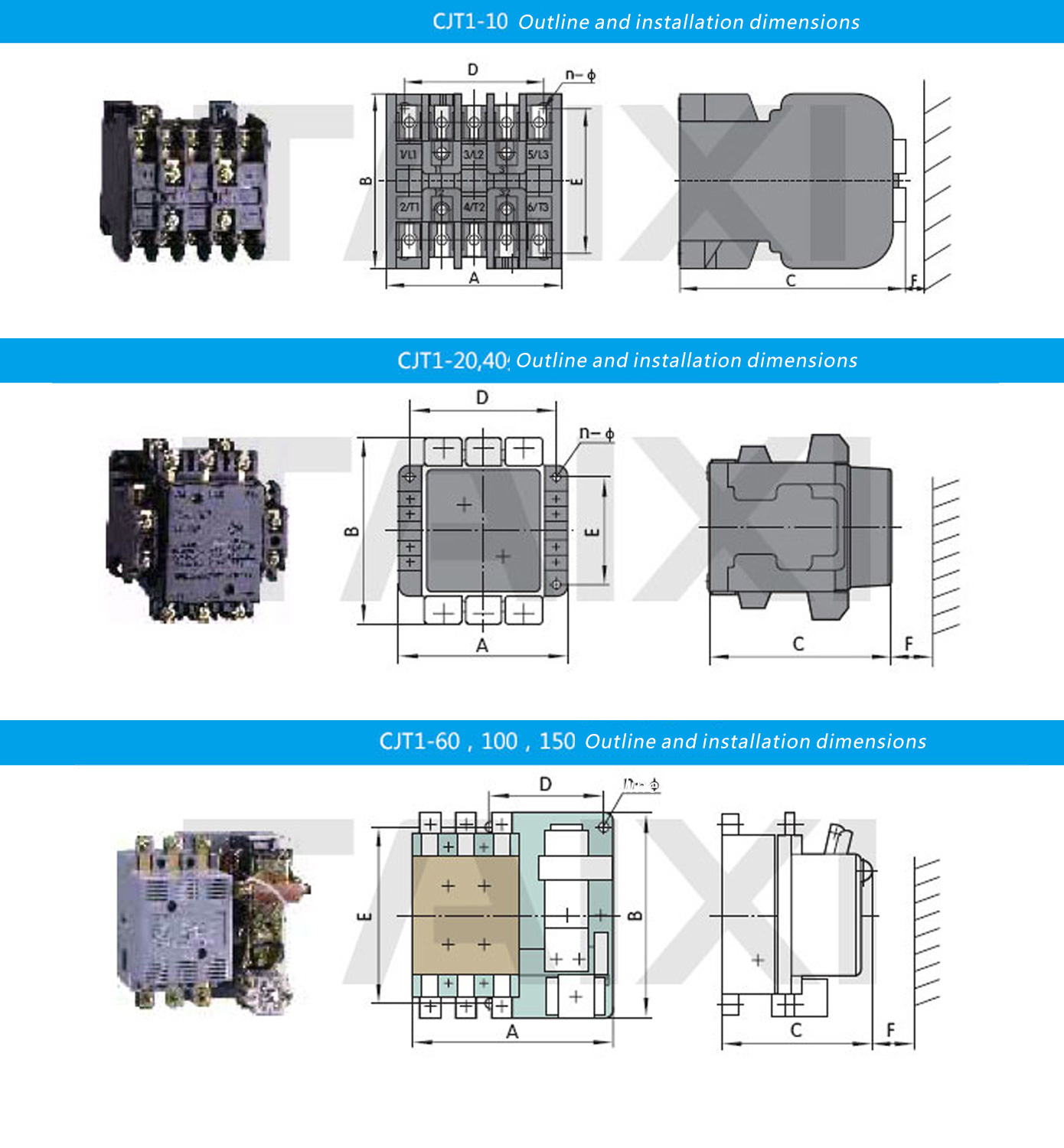 Model

Outline dimension

(AxBxC)

Mounting dimensions

(DxE)

n-φ
F
CJT1-10
70x70x96.5
56x58
3-φ5
15
CJT1-20
92x102x110
76x68
3-φ5
15
CJT1-40
115x128x125
100x75
3-φ5.5
30
CJT1-60
170x178x135
98x160
3-φ7
30
CJT1-100
195x204x135
110x180
3-φ9
75
CJT1-150
222x232x154
130x205
3-φ11
75
Keywords: motor contactor , electrical contactor,Din Rail Mounted Contactor
view and download
| | | | | |
| --- | --- | --- | --- | --- |
| File name(Click to view) | File type | file size | View times | Click to download |
Product related news
| | | | | |
| --- | --- | --- | --- | --- |
| News title | Promulgator | Release time | View times | Click to read |