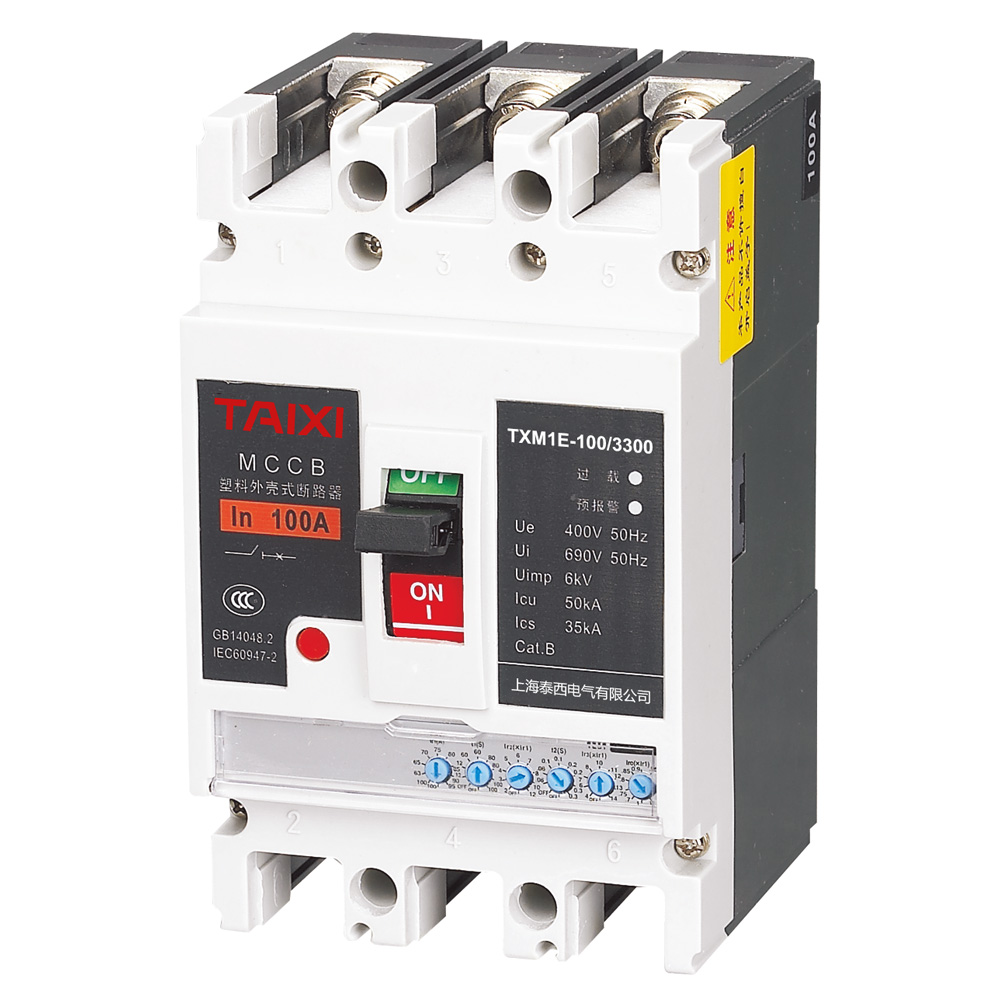 TXCM1E molded case circuit breaker
Moulded Case Circuit Breaker | MCCB
Parameters

Details

Size&weight

Related

Video

Message
SCOPE OF APPLICATIONV
TXCM1E lv Current adjustable circuit breaker (hereinafter referred to as circuit breaker), the circuit breaker has small size, high breaking capacity, short arc, anti vibration. Its rated insulation voltage is 800V, suitable for the distribution network of AC 50Hz, rated voltage AC400V, rated current up to 1250A and below, used to distribute electrical energy and protect the circuit and power equipment from overload, short-circuit, undervoltage and other faults. It can also be used for the infrequent conversion of the line and the infrequent starting of the motor. The circuit breaker can be vertically installed, or horizontally installed. The lv circuit breaker has isolation function.


MAIN FEATURES
TXCM1E adjustable electronic moulded case circuit breaker has three protection function, the circuit breaker with utilization category B connected with other short-circuit protection device in the same circuit has completely optional under short circuit circumstance; With five tripping features, the user can set the equipment through the shunt release according to the load current, electronic shunt release is powered by circuit breaker itself; current signal and control power is from the circle circuit transformer installed in the circuit breaker; With fire protection shunt release for alarming but not trip, when the load current is overloaded, the circuit breaker does not trip, and output the passive contact, driving the corresponding alarm device; The dimensions and specifications are the same as those of TXCM1 MCCB, the installation can be changed.
NORMAL SERVICE CONDITIONS AND INSTALLATION CONDITIONS
1. The elevation of the installation site is not more than 2000m. 2. The ambient temperature is not more than +40℃, and the average temperature within 24h is not more than +35℃, the lower limit of the ambient temperature is -5℃. 3. When the max temperature is +40℃, the relative humidity of air is not more than 50%, can allow a higher relative humidity at a lower temperature, such as 90% at 20℃, special measures should be taken for the condensation produced occasionally on the product due to temperature changes. 4. The pollution degree is 3. 5. The circuit breaker installation of main circuit category is class III, the installation category of auxiliary circuit and control circuit not connect to the main circuit is II. 6. Use category is A or B


MAIN TECHNOLOGY PARAMETERS
The Setting Range Of Intelligent Controller Is Shown In The Table
Setting Project
Setting Range
Setting value of overload long delay
Current setting value lr1
(30~100)A,(100~250)A,(200~400)A,(400~630)A,(630~800)A,(800~1250)A
Time setting value t1
(12、60、80、100)s
Setting value of short circuit and short delay
Current setting value lr2
(2~12)In
Time setting value t2
(0.06, 0.1, 0.2, 0.3)s
Setting value of instantaneous short circuit
Current setting value lr3
(4~14)In


SHORT-CIRCUIT INSTANTANEOUS PROTECTION ACTION CHARACTERISTICS
Rated Current
100, 225(250)
400, 630
800
Setting Current
Ir3=4, 6, 7, 8, 10,
11, 12, 13, 14
Ir3=4, 6, 7, 8, 10,
11, 12, 13,14
Ir3=4, 5, 6, 7, 8,
9, 10, 11, 12
Operation Characteristics
I≤0.85Ir3 non-operation
I≤1.15Ir3 operatino


THE MAIN TECHNICAL DATA OF CIRCUIT BREAKER ARE SHOWN IN TABLE
Model
TXCM1E-100
TXCM1E-250
TXCM1E-400
TXCM1E-630
TXCM1E-800
TXCM1E-1250
TXCM1E-1250
100
250
400
630
800
1250
Breaking Capacity
L
M
L
M
L
M
M
H
M
H
M
Rated Current In(A)
63,80,100
225,250
300,400
500,630
700,800
1000,1250
Pole
3,4
3,4
3,4
3,4
3,4
3,4
3,4
3,4
3,4
3,4
3,4
Rated Operational Voltage Ue(V)
AC400
Rated Insulation Voltage Ui(V)
800
Rated Insulation Voltage Ui(V)
8000
Rated limit short circuit breaking capacity Icu(kA)
50
85
50
85
65
100
65
100
65
100
80
Rated running short circuit breaking capability Ics(kA)
30
50
30
50
42
65
42
62
42
62
50
Rated short-time withstand current Icw/0.5s(kA)
-
-
5
8
10
15/1S
Usage Category
A
A
B
B
B
B
Flashover Distance (mm)
≤50
≤50
≤100
≤100
≤100
Operatig Performance
Power-on (Times)
1500
1000
1000
500
500
500
Power-off (Times)
8500
7000
4000
3000
3000
3000
Characteristics Of Release

a. Characteristics of Electric Trip Unit With overload long-delay inverse time, short-circuit short-delay inverse time, short-circuit short delay time limit, short-circuit instantaneous action and other protection features, the protection characteristics can be set up by the users. b. Overload long delay inverse time protection action characteristics in Table 4. c. Short-circuit short-delay protection action characteristics in Table 5. d. Short-circuit instantaneous protection action characteristics in Table 6.

Controller Types
Basic type
Intelligent communication type, programming communication type, liquid crystal type
Current
Action Time
1.05lr1
No action within 2 hours
1.3lr1
≤1h action
2lr1
Inm=100A, 250A Setting time t1(s)
t1=(12, 60, 80, 100)s
t1=(12, 60, 80, 100)s
Inm=400A, 630A, 800A Setting time t1(s)
t1=(12, 60, 80, 100)s
12s-100s(most progress 1s)
Thermal Memory
30min, can be cleared after power off (this function is optional function in intelligent communication type and programming communication type)
1. Action time I²t1 = (2Ir1) ²t1 (1.2Ir1≤I 2. Action time tolerance is ± 20%;
3. Returnable time is not less than 70% action time.

Short delay overcurrent protection characteristics

Current
Action Time
Ir2≤I<1.5Ir2
Ir2≤I<1.5Ir2
I²t2=(1.5Ir2)²t2
1.5Ir2≤I<Ir3
Definite time
Setting time t2(s)
0.06
0.1
0.2
0.3
Tolerance (s)
±0.02
±0.03
±0.04
±0.06
Returnable time (s)
0.21
Note: Inverse time action time tolerance is ± 20%.



TECHNICAL DATA OF ACCESSORY DEVICE
a. Rated values of auxiliary contacts and alarm contacts are shown in table

Type
Frame Rated Current
Inm(A)
Conventional Thermal Current
Ith(A)
Rated Operational Current Ie(A)
AC400V
DC220V
Auxiliary Contact
Inm≤400
3
0.3
0.15
Inm≥400
3
0.4

0.15

Auxiliary Contact
100≤Inm≤800
3
0.3
0.15
b. The rated control power supply voltage (Us) and rated operating voltage (Ue) of the control circuit release and electric mechanism are shown in Table 8

Type
Rated Voltage (V)
AC50Hz
DC
Release
Shunt Release
Us
220/380
110、220
Undervoltage Release
Ue
220/380
-
Electric Mechanism
Us
220/380
110、220
c. When the applied voltage of the shunt release is between 70%~100% of the rated power voltage, the circuit breaker should be reliably broken.

d. When the power voltage drops to 70% ~ 35% of the rated voltage of the undervoltage release, the undervoltage release can reliably break the circuit breaker; When the power voltage is lower than 35% rated voltage of the undervoltage release, the undervoltage release can prevent the circuit breaker from closing; When the power voltage is higher than 85% rated voltage of the undervoltage release, the undervoltage release can ensure the reliable closing of the circuit breaker.

e. Electric operating mechanism at the rated frequency, between 85% ~ 110% power voltage, the circuit breaker can be reliably closed.



OUTLINE AND INSTALLATION DIMENSIONS
1. The dimensions are shown in figure 3~figure 6 and the table

(1) Dimensions of front connection see Figure 3 (X-X, Y-Y is the center of 3P circuit breaker)

Model
TXCM1E-100
TXCM1E-250
TXCM1E-400
TXCM1E-630
TXCM1E-800
Front Connection
W
82
107
150
210
W1
60
70
96
140
L
150
165
257
280
L1
100
132
220
240
L2
132
144
244
243
H
93
90
107
116
H1
112
110
147
155
H2
29
24
38
46
H3
12
5
9.5
15
H4
4
4
6.5
5
E
55
65
92
83
F
25
25
68
68
G
18
22
30
44
W2
122
142
198
280
W3
90
105
144
210
MB
MB
M10
M10
M12
(2)Dimensions of rear connection see Figure 4 and 5
(3) Dimensions of plug-in type front connection see Figure 6
(4)Dimensions of plug-in type rear connection see Figure 7


Model
TXCM1E-100
TXCM1E-250
TXCM1E-400
TXCM1E-630
TXCM1E-800
Rear Connection
L4
184
173
267
295
H5
53
55
68
84
H6
93
100
128
-
H7
35
35
37
37
M1
M8
M8
M10
M10
M12
d
-
8.5
10.5
13
t
-
-
8.5
13
Rear Connection
L6
168
183
279
296
H8
50
50
60
61
H9
64
72
84
87
H10
76
87
107
148
H11
18
18
21
16
M1
M8
M8
M10
M10
M12
M2
M6
M6
M6
M8
M8
L7
220
252
357
-
L8
250
276
387
-


2. DIMENSIONS FOR MOUNTING PLATE OPENING
(1)Dimensions of front connection see Figure 8 (X-X, Y-Y is the center of 3P circuit breaker)

Model
TXCM1E-100
TXCM1E-250
TXCM1E-400
TXCM1E-630
TXCM1E-800
Pole
3
4
3
4
3
4
3
4
3
Dimensions for mounting plate opening (mm)
A
30
35
44
70
70
B
129
126
194
243
303
d
4.5
4.5
7
7
7
(2) Dimensions of rear connection see Figure 9 (X-X, Y-Y is the center of 3P circuit breaker)

Model
TXCM1E-100
TXCM1E-250
TXCM1E-400
TXCM1E-630
TXCM1E-800
Pole
3
4
3
4
3
4
3
4
3
4
Dimensions for mounting plate opening (mm)
A
60
-
70
-
96
-
140
-
A1
-
90
-
105
-
144
-
210
B
72
-
87
-
124
-
178
-
B1
-
102
-
122
-
172
-
248
C
90
93
164
158
D
132
144
224
243
Φ1
22
24
32
48
Φ2
55
55
65
7
Model
TXCM1E-100
TXCM1E-250
TXCM1E-400
Pole
3
3
3
Dimensions for mounting plate opening (mm)
A
92
107
150
B
60
70
60
C
56
54
129
D
38
63.2
62
E
92
94
109
d
6.5
6.5
8.5
Model
TXCM1E-100
TXCM1E-250
TXCM1E-400
TXCM1E-630
TXCM1E-800
Pole
3
4
3
4
3
4
3
4
3
4
Dimensions for mounting plate opening (mm)
A
94
-
110
-
152
-
215
-
A1
-
125
-
145
-
200
-
283
B
60
-
70
-
60
-
140
-
B1
-
90
-
105
-
108
-
210
C
56
54
129
143
D
48
58
65
65
E
90
88
166
183
d
6.5
6.5
8.5
10


OUTLINE AND INSTALLATION DIMENSIONS

view and download
| | | | | |
| --- | --- | --- | --- | --- |
| File name(Click to view) | File type | file size | View times | Click to download |
Product related news
| | | | | |
| --- | --- | --- | --- | --- |
| News title | Promulgator | Release time | View times | Click to read |