DZ30LE-32 Leakage Circuit Breakers
Residual Current Circuit Breaker | RCCB-RCBO
Parameters

Details

Size&weight

Related

Video

Message
Scope of Application
DZ30LE-32 (DPN Vigi) Leakage Protection Circuit Breaker(32A RCCB) is used for single-phase residential circuits of 50Hz or 60Hz, rated voltage of 230V, rated current 32A single-phase, as leakage protection, also can protect civil electrical circuit of overload and short-circuit, also can make and break electrical equipment and lighting circuit infrequently under normal circumstances infrequently, especially used for industrial and commercial lighting distribution system, when necessary, it can increase the function of over-voltage protection, overvoltage protection rating value Uvo = 280V. The product has a small size, high breaking capacity; Null and live line are cut off at the same time, and in the case of live line in reverse, still able to protect against leakage. This product complies with standards of GB16917.1. Filter equipment of RCD / ELCB can prevent instantaneous voltage (circuit garbling of lighting and other equipment) and instantaneous current (such as large capacitive load line) causing the malfunction trip.
DZ30LE RCCB (32A RCCB) Leakage Protection Circuit Breaker meets standards of IEC61009-1 (1991), GB16917.1 (1997).
Model and its meaning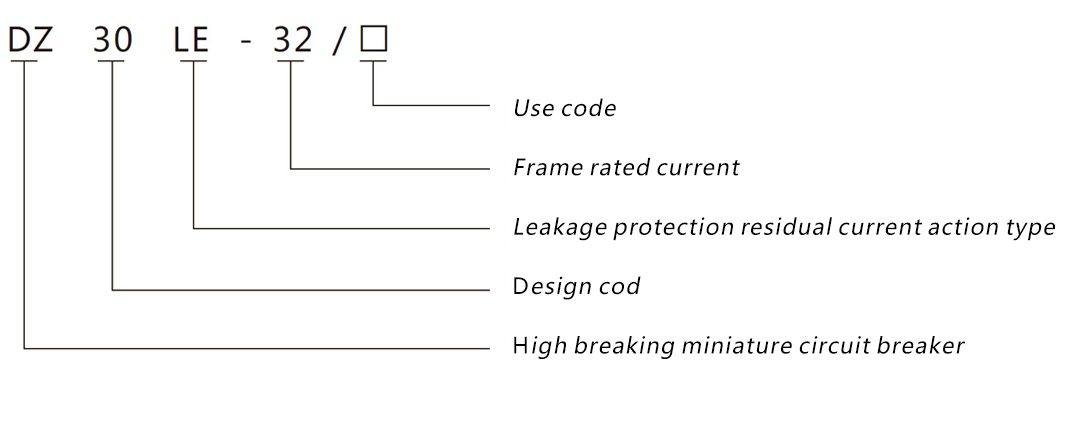 Structure
■ DZ30LE RCCB (32A RCCB) is a derivative product of DZ30 circuit breaker. The whole structure has high breaking capacity, small volume and compact structure. In the width of four modules (36mm) , it has two poles (P + N) , phase line and N-pole at the same time cut off, and N-pole has the advantages of first making after breaking. When the phase line and N-line are in reverse, it still maintain the function of leakage protection.a
■ With a visible leakage action indicator, green indicates no leakage fault, red indicates the leakage fault. Using wire connection, the maximum round copper wire of 16mm ² can be accessed.
■ The test device with a self-reset button, when pressing the button, the internal circuit produce a simulation residual current to break RCD / ELCB. The test device shall be tested periodically, once a month.
■ Installation with TH35-7.5 standard steel rails.
Structural features
■ DZ30LE RCCB (32A RCD) have small size, compact structure, the price is better than similar products.
■ DZ30LE RCCB (32A RCD) housing and some functional parts are made of plastic of high flame retardant, high temperature, impact resistant.
■ DZ30LE RCD / ELCB (32A RCCB) installed with the null line directly, to avoid potential risk of electric shock caused by wrong connection of null line.
■ DZ30LE RCD / ELCB (32A RCCB) usies the latest circuit design and high-performance components, which has strong bearing capacity and does not cause malfunction when the impulse current and surge are over voltage.
■ DZ30LE ELCB (32A RCD) with rail mounting, convenient and easy.
Technical Parameters
■ Rated current: 6,10,16,20,25,32 A
■ Rated operating voltage: 230V AC
■ Breaking capacity: 3kA
■ Impulse withstand voltage: 4kV
■ Mechanical life: 8000 times
■ Electrical life: 3000 times
■ Ambient temperature: -5 ℃ ~ +40 ℃
■ Terminal area: 6 ~ 32A, for the wire of 10mm ² and below
■ Standard: IEC60898-1 / GB10963.1
■ Certification: CCC certification
■ Tripping characteristics: C-shaped curve, to protect conventional load and distribution cables, instantaneous trip range (5 ~ 10) In
| | | | | |
| --- | --- | --- | --- | --- |
| Current grade (A) | Screw | Rated torque(N.m) | Ultimate torque(N.m) | Standard torque(N.m) |
| 6~32 | M4 | 2.0 | 3.0 | 1.2 |
Breaking time of the residual current action
In(A)
I△n(A)
The breaking time (s) when the residual current (IΔ) is equal to the following value
I△n
2I△n
5I△n
500A
6~32
0.03
0.1
0.08
0.04
0.04
Time-current operating characteristics (reference temperature 30 ° C)
NO.
Initial state
Test current
Set time
Prospective result
Remark
a
Cold
1.13In
t≤1h
Non tripping


b
Immidiately following the Test a
1.45In
t<1h
tripping

the current rises stably

to a predetermined value

within 5 seconds

c
Cold
2.55In
1s<60s<>
tripping


d
Cold
5In
t≤0.1s
Non tripping

The current is switched

on by closing the

auxiliary switch

e
Cold
10In
t<0.1s
tripping
Trip type
Rated Current A

Rated short

circuit breaking

capacity A

cosΦ
Rated residual operating current
I△n(mA)

Rated residual

non-operating current
I△no(mA)

Breaking time
C
6≤In≤32
4500
0.75~0.80
30
15
t≤0.1s
Wiring
| | |
| --- | --- |
| Rated Current In(A) | Copper conductor nominal cross-sectional area(mm²) |
| 6 | 1 |
| 10 | 1.5 |
| 16、20 | 2.5 |
| 25 | 4 |
| 32 | 6 |
Tripping characteristic curve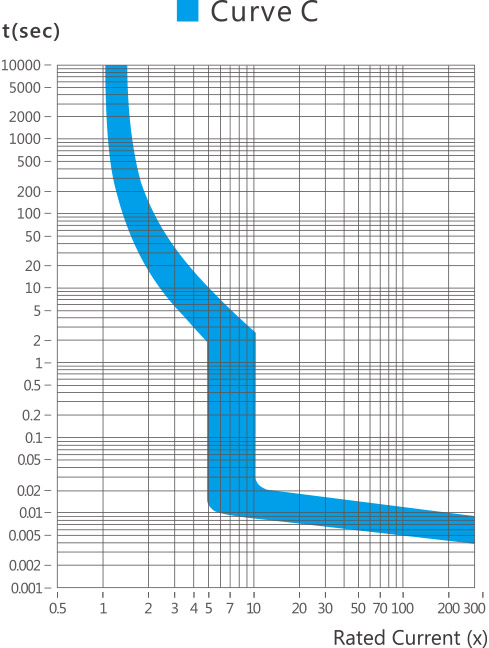 Outline and installation dimensions
Keywords: 32A RCCB,RCCB RCD,RCD ELCB,32A RCD
view and download
| | | | | |
| --- | --- | --- | --- | --- |
| File name(Click to view) | File type | file size | View times | Click to download |
Product related news
| | | | | |
| --- | --- | --- | --- | --- |
| News title | Promulgator | Release time | View times | Click to read |