DZ47LE-125 Residual Current Circuit Breaker
Residual Current Circuit Breaker | RCCB-RCBO
Parameters

Details

Size&weight

Related

Video

Message
Scope of Application
DZ47LE-125 Earth Leakage Circuit Breaker is a current-operated electronic residual current devices, consists of the DZ47 MCB and leakage release. Suitable for the circuit of AC 50Hz or 60Hz, rated voltage single-stage two-wire (1P + N), two-poles (2P) for 230V, three-poles (3P), three-poles four-wire (3P + N), 4-poles (4P) for 400V, rated current from of 40A to 125A, provide direct or indirect contact protection to the human body, when having leakage or personal electric shock in the protected circuit, as long as the leakage current I △ reaches the operating current value, the residual current devices will immediately act to cut off the power , thus play a protective role in leakage and electric shock, while leakage circuit breaker protects overload and short circuit in the circuit. It can also prevent fire risk caused by that damaged equipment insulation produces ground fault current. And it can transfer infrequently in the circuit and start infrequently in the moter. Common models of DZ47LE series ELCB includes DZ47LE-125/1P, DZ47LE-125/2P, DZ47LE-125/3P, DZ47LE-125/3P+N, DZ47LE-125/4P, DZ47LE-63/1P, DZ47LE-63/2P, DZ47LE-63/3P, DZ47LE-63/3P+N, DZ47LE-63/4P and others, they have high breaking capacity, small size, light weight, parts versatility, beautiful appearance, etc., rail installation, easy to use.
DZ47LE-125 residual current devices meet standard of GB14048.2 "low-voltage switchgear and control equipment low-voltage circuit breakers", equivalent to IEC60947-1: 1997 standard.
Model and meaning

Normal operating conditions and installation conditions
Ambient temperature: -5℃~40℃, and average temperature in 24h below +35℃.
Altitude: ≤ 2000m.
Installation conditions: The external magnetic field in the vicinity of the circuit breaker installation site does not exceed 5 of the geomagnetic field in any direction; Residual current action circuit breakers should be installed vertically, the inclination of the azimuth does not exceed 5 °; Handle-up means power-on; Installation site without significant impact and vibration.

Main technical parameters
DZ47LE-125High current leakage protection circuit breakers have the following functions
Short circuit protection
Overload protection
Isolation
Leakage Protection
Overvoltage protection
Main Features
Rated operating voltage(V)
1P+N,2P:230AC
3P,3P+N,4P:400AC
Rated Current(A)
63-125
Rated Frequency(Hz)
50/60
Pole number
1P+N,2P,3,3P+N,4P
Breaking capacity(kA)
10
Rated residual action current(mA)
30,50,75,100,300
Overvoltage protection(V)
(280±14) V AC (1P+N,2P 30mA产品可提供过压保护功能)
Electrical characteristics
Rated insulation voltage Ui
(V)
250(phase to ground)/500(phase to phase)
Maximum operating voltage UBmax
1P+N,2P
230 AC
3P,3P+N,4P
400 AC
Rated short - circuit capacity Icu(IEC/EN60898)
(kA)
10
Rated impulse withstand voltage Uimp(1.2/50)
(kV)
4
Dielectric test voltage
2kV (50/60Hz,1minute)
Isolation
Yes
Pollution level
2
Tripping form
Thermal magnetic trip
Thermal magnetic tripping characteristic
C-type curve(li=8.5In)
■
D-type curve(li=12In)
■
Electrical and mechanical accessories
■
Mechanical properties
Tripping indication



DZ47LE-125 with residual current action trip indication.

Reset button up, it is leakage tripping

Manual control
Overcurrent fault
Circuit breaker and residual current action device reset at same time.
Leakage fault
Residual current operated device reset first, circuit breaker reset after.
Handle


Red. Pad printing indicates ON-OFF position
Mechanical life
time
8500
Electrical life
time
3000
Degree of protection
Installed in the distribution box
IP40
Direct installation
IP20
Resistance to mechanical shock


30g,3 times impacts, time of duration is 11ms
(The place without significant vibration and impact)
Anti-vibration(IEC/EN60068-2-6)


The place without significant vibration and impact
Resistance to heat and humidity(IEC60068-2)

humid and hot ℃/RH
2categories,28 times circulation,
Temperature is 55℃,relative humidity is 90%~96%
Temperature is 25℃,relative humidity is 95%~100%
Reference ambient temperature
℃
30℃
The average temperature of the using ambient temperature(+35℃)
℃
-20℃~+60℃
Storage Temperature
℃
-40℃~+70℃
Breaking time of residual current action
No.
I△n
(mA)
The MAX breaking time (s) and the MIN non-driving time (s)
1I△n
2I△n
5I△n
10I△n
Non-delay type
≥30
0.1
0.06
0.04
0.04
Overcurrent protection characteristic
No.
Initial state
Test current
Set time
Prospective result
Remark
In=63A
In>63A
a
Cold
1.05In
t≤1h
t≤2h
Non tripping


b
After the last test
1.30In
t<1h
t<2h
Tripping
The current rise steadily to a fixed value within 5S
c
Cold
8In
t≤0.2s
Non tripping
The current is switched on by closing the auxiliary switch
d
Cold
12In
t<0.2s
Tripping
The current is switched on by closing the auxiliary switch
Rated current(A)
Operating cycle index
On-load(time)
No-load(time)
63、80、100
1500
20000
125
1000
20000
Wire of (16~25)mm² and below for connection, wiring method is screws to tighten the wiring, the torque is 3.5N · m.
| | |
| --- | --- |
| Rated current In(A) | Copper conductor nominal cross-sectional area(mm²) |
| 63 | 16 |
| 80 | 25 |
| 100 | 35 |
| 125 | 50 |
Product Features
■ Residual current operated circuit breaker operating mechanism free tripping mechanism with energy storage, the contact closes quickly to overcome the adverse effects of speed of manpower operating handle, greatly improving the product life. In normal operation, the contact only stay in the closed or disconnected position.
■ High breaker breaking capacity.
■ The zero-sequence transformer and the electronic discriminant control circuit components of residual current release have high-performance, operation stability, and strong anti-interference to ensure products work reliably.
■ The terminal blocks with the button contact protection combination, high security.
■ Case and other plastic parts are made of plastic with high flame retardant, high temperature, impact resistant.
■ residual current devices have small size, light weight, compact structure, modular design.
■ Unique appearance, rational use of space layout.
■ residual current devices are mounted on the rail, convenient and time-saving.

Application Examples
Residual current action circuit breakers using in the network shown in Figure. Residual current operated circuit breakers can also be combined with other electrical appliances to form a combination of electrical appliances, to expand the scope of use.


Overcurrent trip characteristic curve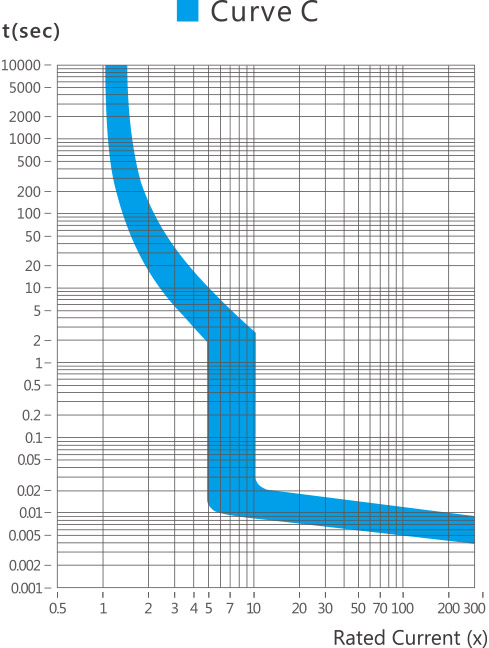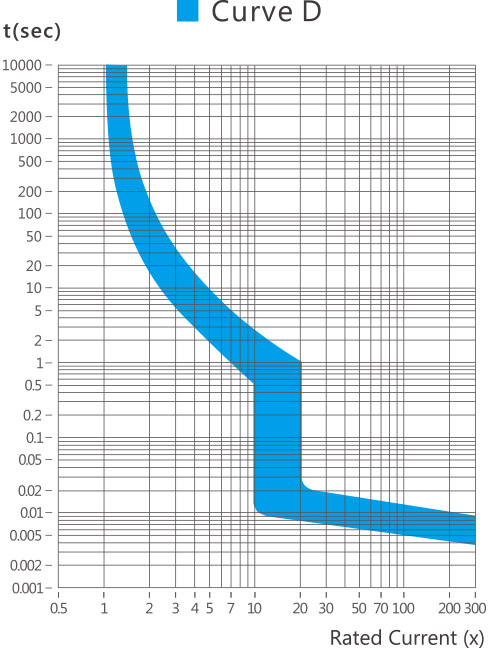 Use and maintenance
1, Leakage circuit breakers can not protect electric shock hazard caused by touching the two lines of protection circuit at the same time.
2, The input termination of leakage circuit breakers connects with power supply, output termination connects with load, or will make trip coil burn out.
3,The power supply shall be connected to the load through the leakage circuit breaker, do not make any of lines "extracorporeal circulation", otherwise leakage circuit breakers will not be able to work with the load.
4, Before installation, should check if technical parameters on the product nameplate match with the actual use, and should select and use the cross-sectional area matching with the products to install.
5, The action characteristics test of the leakage circuit breaker should use special testing equipment qualified for the inspection of relevant state departments, strictly prohibit the test method about the direct contact with the ground device or direct short-circuit.
6, Strictly prohibit the outlet of products from detecting the insulation resistance directly, the auxiliary power of the circuit board should be cut-off to ensure that the input and output of electronic components have no voltage method to detect, otherwise the electronic components of the circuit board will burn out.
7, After leakage circuit breaker has been installed or operated for a certain period of time, it should be in the state of switch-on and power-on, pressing the test button, leakage circuit breakers should take action to check if the protection performance is normal and reliable, it should be stopped using and discharged to maintain in the abnormal situation.
8, Leakage circuit breaker is opening due to the protection circuit failure (leakage, overload or short circuit), you must identify the cause, only after the fault has been solved, it can be switch-on.
9, Leakage circuit breaker's overload, short circuit, leakage protection features have been identified, can not be adjusted in use.
10, Leakage circuit breaker shall not be subjected to snow and rain in the transport, storage and use.
11, leakage circuit breakers corresponding to the copper conductor cross-sectional area in Table 4.
Keywords: DZ47LE-63,Residual current devices
view and download
| | | | | |
| --- | --- | --- | --- | --- |
| File name(Click to view) | File type | file size | View times | Click to download |
Product related news
| | | | | |
| --- | --- | --- | --- | --- |
| News title | Promulgator | Release time | View times | Click to read |