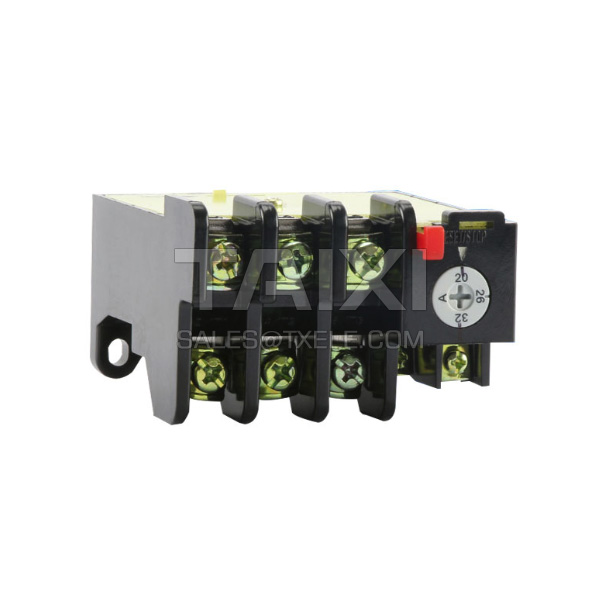 Parameters

Details

Size&weight

Related

Video

Message
Scope of Application
JR36 Thermal Overload Relay is suitable for three-phase AC motor with AC 50Hz, rated voltage to 690V, current from 0.25 to 160A for overload protection and phase failure protection. The product is a replacement product of the bimetal thermal relay. Its installation size is exactly the same as that of the JR16 series. It can be combined with the CJT1 series
AC contactor
to compose the electromagnetic starter.
The product conforms to GB14048.4 and IEC60947-4-1.
Model and Meaning

Normal working conditions and installation conditions
Ambient temperature: The average value does not exceed +35°C in 24 hours.
Altitude: no more than 2000m.
Atmospheric conditions: The relative humidity does not exceed 50% at +40°C, and higher relative humidity may be allowed at lower temperatures. For example, 90% at 20°C, special measures should be taken for the occasional condensation due to temperature changes.
Pollution level: 3 levels.
Installation category: Class III.
Installation conditions: The inclination of the installation face and the vertical is not more than ±5°.
In addition to mounting screws, the relay can also use 35mm standard rail.
Shock vibration: The relay should be installed and used in places where there is no significant shaking, shock and vibration.
Transportation, Storage: The relay should not be subject to severe impact and vibration during transportation, and it must not be affected by rain or snow in transportation and storage. Relays are suitable for transport and storage at -25°C ~ +55°C, and at +70°C for short periods (in 24h).
Structure Feature
This series of thermal relays is three-phase bimetal type with tripping level of 10A. With differential phase fault protection, continuous adjustable current setting device: temperature compensation, action flexibility detection mechanism, test button, can manually disconnect the NC contact function, manual and auto reset conversion adjustment structure, one NO and one NC contacts on electricity. Installation method: independent installation.
Main Technical Parameters
Basic parameters of auxiliary contact
Utilization Category
Conventional thermal current A
Rated insulation voltage
Rated operational voltage
Rated operational current
Control flow
NO
NC
AC-15
10
10
380V
380V
0.47A
180VA
DC-13
220V
0.15A
33W
Operating characteristic
Item
No.
Setting current multiple
Action time
Test conditions
Overload protection
1
1.05
No action in 2h
Cold
2
1.2
Action in 2h
Heat (Following the No.1 test)
3
1.5
Action in 2 minutes
Heat (Following the No.1 test)
4
7.2
2s<Tp≤10s
Cold
Phase-failure protection
5
Any two phases
Another phase
No action in 2h
Cold
1.0
0.9
6
1.5
0
Action in 2h
Heat (Following the No.5 test)
Type
Rated insulation voltage
Rated current
Setting current range (A)
Thermal element
Fuse
Sectional area of connecting wire (normal core) mm
For contactor
JR36-20
690V
20A
0.25~0.35
B1
50A
1.0
CJT1-10
0.32~0.5
B2
0.45~0.72
B3
0.68~1.1
B4
1~1.6
B5
1.5~2.4
B6
2.2~3.5
B7
3.2~5
B8
CJT1-20/40
4.5~7.2
B9
6.8~11
B10
1.5
10~16
B11
2.5
14~22
B12
4.0
JR36-63
63A
14~22
D1
125A
CJT1-60
20~32
D2
6
28~45
D3
10
40~63
D4
16
JR36-160
160A
40~63
E1
315A
CJT1-100/150
53~85
E2
25
75~120
E3
50
100~160
E4
70
Outline and lnstallation Dimension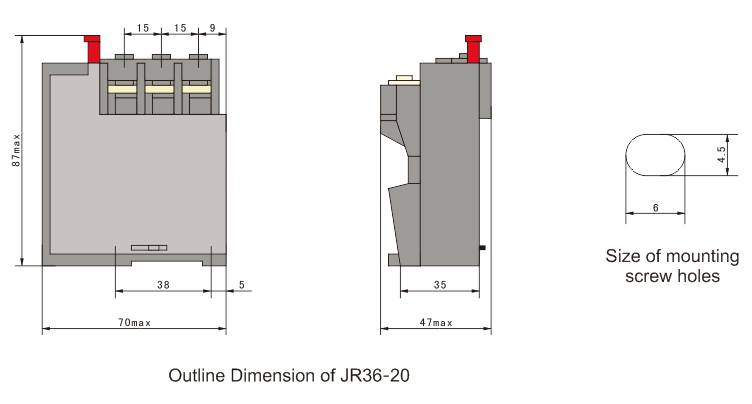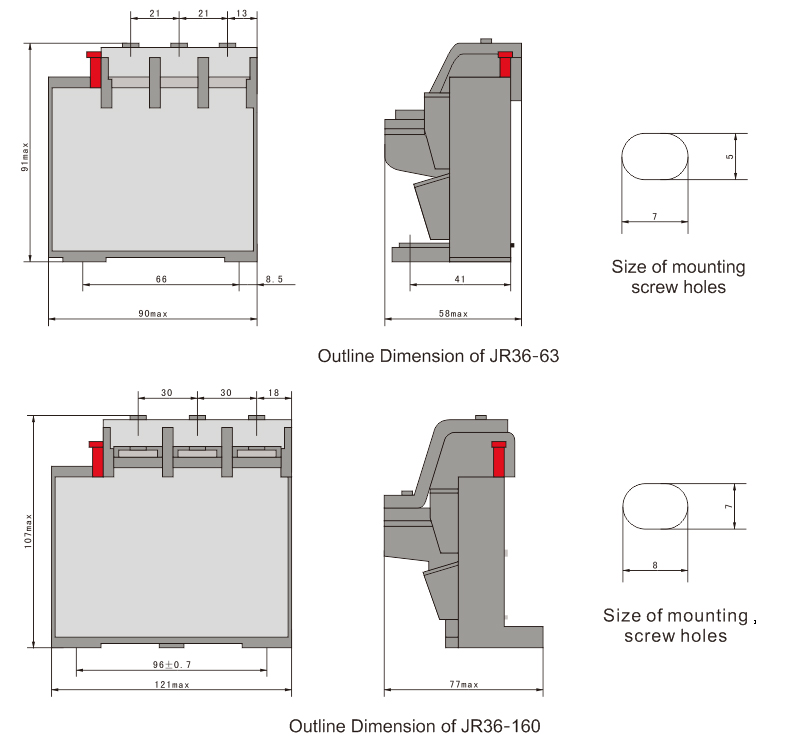 view and download
| | | | | |
| --- | --- | --- | --- | --- |
| File name(Click to view) | File type | file size | View times | Click to download |
Product related news
| | | | | |
| --- | --- | --- | --- | --- |
| News title | Promulgator | Release time | View times | Click to read |